The Ultimate Method for Whitening Your Dingy, Yellowing Teeth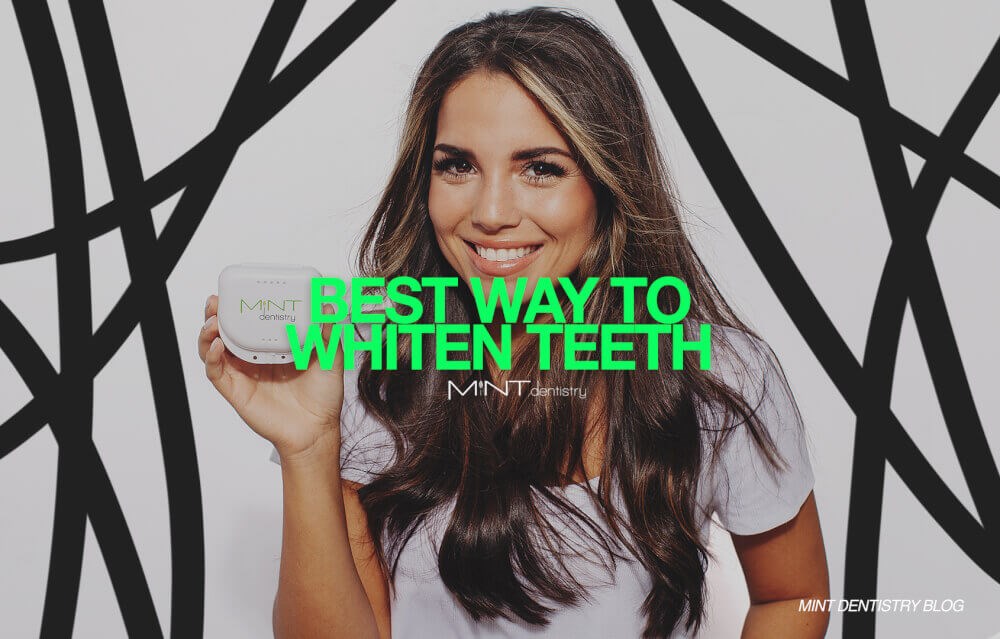 ELIMINATING DISCOLORATION FOR BRIGHTER TEETH
Enjoying sodas and many other staining beverages throughout your day can help keep you awake, but it definitely isn't helping your teeth. A lifetime of stains from foods and drinks can result in discolored smiles. Even regularly brushing and flossing twice a day may not effectively provide the stunning smile you're aiming for. Below, we've listed some popular tooth whitening treatments at a range of prices, both professional-grade and at-home products, to help you get a whiter smile that will knock 'em dead in Fort Worth, TX.
IT ALL STARTS WITH PROPER BRUSHING
Just brushing your teeth, flossing, and using mouthwash is a great place to start. Also, you can put a mini-sized toothbrush, toothpaste, and mouthwash in your purse or backpack to have at work or school. Whenever you use the restroom or stop for a break, give your mouth a convenient brush and rinse. In addition to boosting your overall dental hygiene, you'll also be brightening your smile.
DIY TEETH WHITENING CHOICES
When you opt for a store-bought option to lighten your teeth, you might see minor changes in color by simply applying these products in addition to your typical hygiene routine. At many department stores and pharmacies in Fort Worth, TX, you can purchase numerous kinds of tooth brightening options to try at home, such as whitening mouthwash, activated charcoal, and gels containing hydrogen peroxide. Always make sure to follow the instructions included in the box.
TEETH BLEACHING PENS AND STRIPS
Various retailers and pharmacies stock a large selection of different brands of bleaching strips and pens. The bleaching strips are easily applied to your teeth and are relatively hard to detect. A whitening pen allows you to accurately apply a bleaching solution to your teeth when they have been brushed and are dry. After you have carefully applied the strip or gel to your teeth, you should let them set for the time instructed on the package.
DENTAL TRAYS WITH BLEACHING GEL
One-size-fits-most teeth bleaching systems that utilize mouth trays can be bought in retail stores, and some even have the same appearance as the mouth trays utilized at a dental practice. Among the primary differences between store-bought and professional whitening kits is the customized fit. The dental trays in a nonprofessional whitening system might feel uncomfortable or could give you splotchy results. Further, the whitening gels in over-the-counter kits aren't formulated for your exact issues, so you could develop sensitivity to hot and cold foods and drinks or other problems.
WHITENING SYSTEMS WITH LIGHTS
To boost the results from some tooth whitening solutions or strips, you can use a special type of light. LED dental appliances should be placed in the mouth after you have put on your bleaching gel or strips. These special mouthpieces have a specific exposure time and must be used only as stated in the directions.
SINCE STORE-BOUGHT OPTIONS WORK, WHY SHOULD I PAY FOR AN IN-OFFICE TREATMENT?
You need to know that store-bought teeth bleaching treatments won't offer the same quality of results compared to teeth whitening sessions done by your dental practitioner. Store-bought options have limited strength, so based on your degree of darkening and whether you have any inlays or onlays, etc., your outcome will likely be uneven. Plus, using these products can result in tooth and gum sensitivity. Ask your dental practitioner about store-bought teeth whitening kits, how they perform compared to treatments they have in their practice, and if they might suggest any of them to improve your particular discoloration.
PROFESSIONAL TEETH WHITENING METHODS
Twice-yearly oral exams and professional cleanings not only ensure that your whole mouth stays healthy, but they should also enhance the look of your smile. Scraping away the built-up debris and bacteria from your teeth is an excellent way to visibly spruce up your smile. For more significant results, ask your dental practitioner about the in-office teeth whitening systems they provide. He or she might offer laser whitening treatments, professional DIY kits, and porcelain veneers for a complete smile makeover.
DENTIST-PERFORMED LASER TEETH WHITENING
For a professional laser whitening treatment, your dentist will first apply a special whitening solution onto your teeth and then go a step further with a laser light. The energy emitted by the laser enhances the whitening product to produce more dramatic results. This technique is great when you need fast results to prepare for an important event or for those who have crowns, bridges, inlays, etc. Certain laser teeth whitening procedures can also improve internal discoloration, which over-the-counter options can't reach.
COSMETIC VENEERS
For a complete smile makeover to quickly make your teeth more brilliant and address other visible imperfections (like broken teeth, gaps, excessive staining, and short teeth), porcelain veneers could be a great treatment. Veneers are customized to look like real enamel and fit comfortably on top of the teeth. Your dental practitioner will have to carefully remove a minimal amount of your natural enamel before placing the veneers. As soon as they're in place, you'll have a new, stunning smile.
MEDICAL-GRADE AT-HOME WHITENING PRODUCTS
For patients who would rather whiten in the comfort of home, a lot of dentists provide professional DIY whitening kits. With customized tooth trays and a special whitening solution selected for your types of discoloration, an at-home whitening system from your dentist can provide a much more comfortable fit and even results. Professional kits are just a better choice than over-the-counter kits. Once you've applied the whitening solution to both trays, you put them over your teeth for a specific amount of time, as instructed by your dental practitioner. Once the treatment is done, you remove the trays, rinse them off, and store them for the next use. At your next visit, you can ask for a refill on your whitening gel. Do not try to use over-the-counter whitening gel with your custom kits because they may erode your trays. You may use an at-home whitening kit as a stand-alone process or to maintain your results from laser whitening.
SHOW OFF YOUR WHITEST, MOST BEAUTIFUL SMILE
Having uneven outcomes or sensitive teeth from retail whitening treatments can be very disappointing. At MINT dentistry in Fort Worth Horne, we provide home and in-office whitening treatments, as well as veneers. All of these options can be tailored to match your aesthetic goals, so you get great results without compromising your teeth. Reach out to set up a consultation at our practice in Fort Worth, TX to find out about all of our in-office and at-home whitening options so you can get a bright, sexy smile.